/
/
/
/

The Stick Chair Book
Lost Art Press
The Stick Chair Book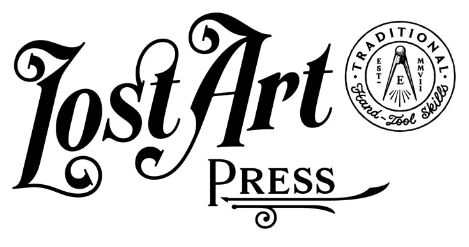 Free UK mainland standard delivery on orders over £120. Exceptions apply to large/heavy items. We Deliver UK and Worldwide, but some items are domestic UK mainland only. Delivery charges and applicable taxes are calculated at the time of checking out. Please allow extra time for tracking updates on the Royal Mail website.
The Stick Chair Book by Christopher Schwarz demystifies the art of chair making, proving that creating functional, sturdy, and aesthetically pleasing chairs doesn't require specialised tools or materials. Drawing on 20 years of experience and historical examples, Schwarz shows how everyday woodworkers used simple tools and readily available wood to craft practical chairs. This guide reveals that complex tools and geometry knowledge are unnecessary, focusing instead on basic tools like saws, a drill, and a jack plane. The book is divided into three parts: an introduction to stick chairs and necessary tools and materials, detailed chair making techniques exploring various design elements, and plans for five distinct stick chair styles. Additional chapters address chair comfort, finishing, and tool sharpening, making it an ideal resource for woodworkers looking to explore chair making with a creative and practical approach.
You can download an excerpt of this book here. What's a stick chair? You can learn all about them here.
About the Revised Edition (in the worlds of the author, Christopher Schwarz):

''When I first wrote 'The Stick Chair Book' in 2021, I was also fighting cancer. So I hammered out the text with urgency and the desire to record every fragment of information I knew about chair making.
To be fair, that's usually how I go about writing all my books. But then I typically take a couple months off, put the manuscript aside, then revisit it with fresh eyes and a sharpened pen. My final revisions remove about 10-20 percent of the original material. The stuff I cut is usually chapters that don't match the tone of the rest of the text. Or I snip sections that aren't as relevant as when I first wrote them. I also smooth out the writing and add bits of information I'd forgotten during the first brain-to-fingers dump.'
And that's exactly what I've done for this revised edition. As a result, the text is 10.1 percent shorter than the first edition. It's more to the point. And it's where the manuscript would have ended up under normal conditions.''

Product Details:
First Edition: Features 632 pages on brilliant white 70# uncoated paper, with durable sewn, glued, and taped pages, encased in 98-point board covers wrapped in cotton cloth.
Revised Edition: Contains 584 pages on 70# matte coated paper (6" x 9"), maintaining the same durability and elegant cotton cloth-covered 98-point board covers.
Both editions are proudly produced and printed in the USA by Lost Art Press.
About Lost Art Press:

Lost Art Press LLC was founded in 2007 by two enthusiastic woodworkers, John Hoffman and Christopher Schwarz, while attending a Lie-Nielsen Toolworks Open House in Warren, Maine. The company started with a question: What happened to all the great woodworking books that used to be published? The books that changed the course of the craft and people's lives? The books that explored our ever-diminishing link to the handwork of previous centuries? Flash forward to today, Lost Art Press ships about 60,000 books a year, which makes them still a tiny publisher in the grand scheme of things, but allows important, valuable texts to be produced, fairly and equitably for generations to come. As a family business ourselves, we absolutely love the principles and foundations that Lost Art Press is built upon, and proudly stock a large range of their books.