/
/
/
/

SHARPEN THIS
Lost Art Press
SHARPEN THIS
3 in stock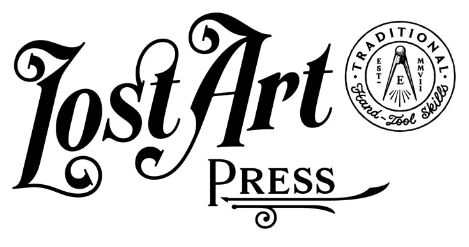 Free UK mainland standard delivery on orders over £120. Exceptions apply to large/heavy items. We Deliver UK and Worldwide, but some items are domestic UK mainland only. Delivery charges and applicable taxes are calculated at the time of checking out. Please allow extra time for tracking updates on the Royal Mail website.
SHARPEN THIS by Christopher SchwarzYou can download an excerpt of this book here.
Sharpening is not a sport.
If you want to be a better woodworker, you need to learn to sharpen. If you want to be a better sharpener, you need to stop paying so much attention to tertiary bevels and carbide formations in steel and start paying attention to the wood. If the wood is cut cleanly, then your tools are sufficiently sharp. If the wood is torn out and covered in tiny scratches, then you need to sharpen up your tools.
And then keep sharpening your tools until you get the desired results.
"Sharpen This" is a 120-page pocketbook on how to get great edges, regardless of the sharpening system you choose. It is about what is important: Creating a sharp edge quickly with a minimum amount of equipment.
It is not a book about becoming a sharpening expert. It is instead about becoming an expert at sharpening.
It can be tough to stay on this practical path. Every woodworking catalog and discussion forum is packed with new equipment and ideas to create better edges. It's tempting, especially as a beginner, to try some of the interesting sharpening approaches that float around the internet. Or to sample some exotic new diamond-impregnated paper. What can it hurt? And what if it helps?
"Sharpen This" is an attempt to help woodworkers stay grounded. To think about want you want to leave behind when you're gone. Is it a chest filled with immaculately cared for tools and a few nice pieces of furniture?
Or do you want to leave behind hundreds of pieces of furniture that demonstrate – through an iterative process – that you grew in the ability to harness beauty and bring it into this world? (Plus, a chest of tools that are in serviceable shape.)
"Sharpen This" covers the entire life cycle of an edge tool, from setting up a new tool, to repairing chipped edges, grinding, honing and polishing. It helps you decode the confusing world of sharpening media by focusing on particle size (in microns) instead of commercial jabber-jock.
And, most importantly, it helps you get back to work at the bench as quickly as possible. Because the process of making tools dull is far more enjoyable than making tools sharp.
"Sharpen This" is a pocket-sized book, (4 1/2" x 6") that is printed on heavy, #80 coated paper. The book is assembled using printed signatures that are sewn together with thread, then glued and reinforced with fiber tape. Then the pages are wrapped in heavy cloth covered boards. This is a permanent book. Like all Lost Art Press books, "Sharpen This" is produced and printed entirely in the United States.
Table of Contents
1. Introduction 1
2. What is Sharp? 5
3. What Sharpens Tools? 17
4. Life Cycle of an Edge 31
5. Set Up a New Tool 37
6. When & How to Grind 47
7. Hone & Polish 67
8. Polish the Flat Side 85
9. Flatten Your Media 91
10. Sharpening is Not a Sport 97

Appendices
1. About Sharpening Media, Advantages & Disadvantages 101
2. Sharpening Complex Profiles 106
3. All You Need to Know About Steel 108
4. Sharpening Scrapers 110